Todd Rundgren
The Wizard is always on the True Star !!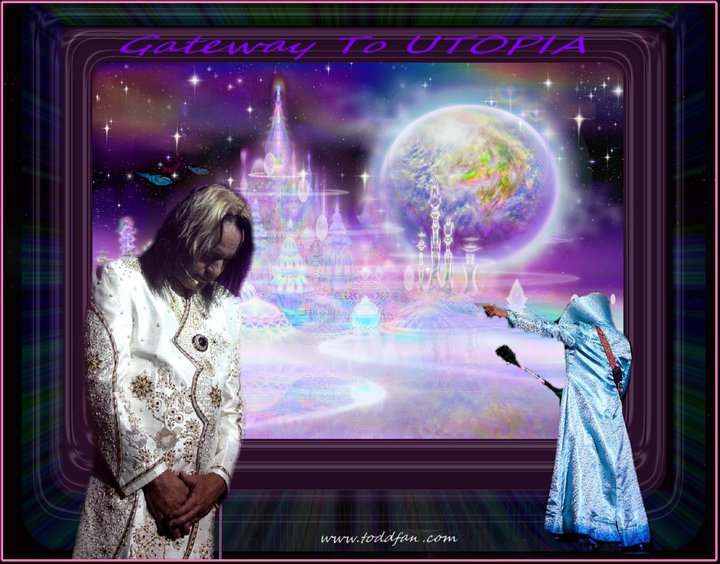 Todd Harry Rundgren nasce a Upper Darby, Pennsylvania, (USA), il 22 Giugno del 1948.


E' un musicista Americano, cantautore e produttore discografico. Salutato nella fase iniziale della sua carriera come un nuovo bambino prodigio del Pop, nel '67 fonda i Nazz, una garage-rock-band.
Disco d'Oro certificato per il doppio-solo LP Something / Anything? del 1972, la carriera di Todd Rundgren vede la produzione di una gamma diversificata di registrazioni come solista, e durante gli anni '70/'80 con lo storico gruppo degli Utopia.
E 'stato anche prolifico come produttore e ingegnere del suono nelle registrazioni di altri musicisti. Infatti nel corso degli anni '70/'80, Rundgren registra e produce molti album degni di nota, tra cui Straight Up da Badfinger , Stage Fright di The Band , We're an American Band di Grand Funk Railroad, Bat Out of Hell di Meat Loaf (ora classificato come il più venduto quinto album di tutti i tempi), e Skylarking da XTC .
Negli anni 1980 e 1990 il suo interesse per il video-computer ha portato il video del brano " Time Heals" di Todd all'ottavo posto dei video riprodotti su MTV , e " Change Myself" è stato creato per essere commerciabile con il computer Amiga.
La sue migliori canzoni sono " Hello It's Me "e" I Saw the Light ", che hanno spopolato su stazioni radio di rock classico, e" Bang the Drum All Day", brani presenti negli spettacoli di molte arene sportive, negli spot pubblicitari e in alcuni trailers cinematografici.


Hailed in the early stage of his career as a new pop-wunderkind, left the band to form the garage rock group Nazz in 1967, supported by the certified gold solo double LP Something/Anything? in 1972, Todd Rundgren's career has produced a diverse range of recordings as solo artist, and during the seventies and eighties with the band Utopia.
During the 1970s and 1980s, Rundgren engineered and/or produced many notable albums for other acts, including Straight Up by Badfinger , Stage Fright by The Band , We're an American Band by Grand Funk Railroad , Bat Out of Hell by Meat Loaf (now ranked as the fifth biggest-selling album of all time), and Skylarking by XTC .
He has also been prolific as a producer and engineer on the recorded work of other musicians.In the 1980s and 1990s his interest in video and computers led to Rundgren's " Time Heals " being the eighth video played on MTV , and " Change Myself " was generated on commercially available Amiga Computers.
His best-known songs include " Hello It's Me " and " I Saw the Light " which have heavy rotation on classic rock radio stations, and " Bang the Drum All Day " featured in many sports arenas, commercials, and movie trailers.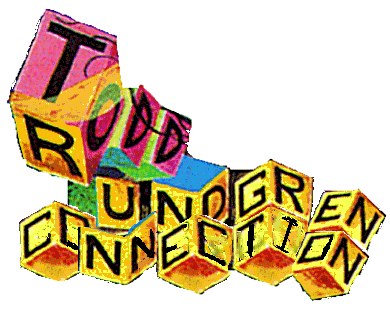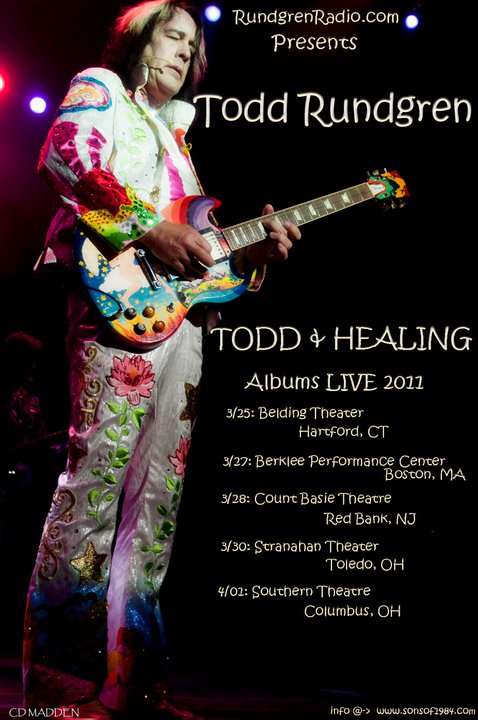 Todd wikipedia
Todd site
Todd discography