Maryann "Boom Boom" Maisano
is the headliner of
THE ITALIAN CHICKS COMEDY & VARIETY SHOW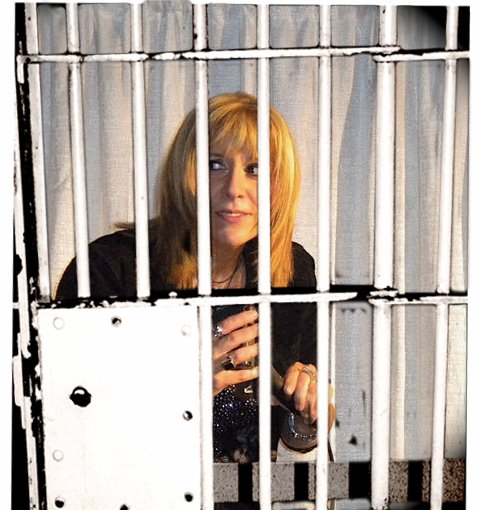 Maryann Maisano nata e cresciuta a Fort Lee in New Jersey, non si e' affatto dimenticata delle sue origini Calabresi (per via paterna). Anzi propio queste ultime hanno portato l'artista sulla vetta piu' alta e ambita del successo artistico.
Comica, attrice, compositrice e cantante con uno stile tutto personale e prettamente Italiano, assieme al suo gruppo titolato Italian Chicks , tradotto "Le pollastre Italiane" fa il tutto esaurito nei prestigiosi teatri di New York City.
I due requisiti necessari fortemente voluti da Maryann, nella costruzione iniziale del gruppo sono "essere donna e soprattutto Italiana".
Mary Didimo, Carolan Valentino e Gina Scarda "le rimanenti tre Italian Chicks" rispecchiano perfettamente questi requisiti .Incredibile e' la capacita' di Maryann nell'intrattenere l'esigente publico Americano, che rimane con il fiato sospeso per l'intera durata dello spettacolo.
Pilastri su cui poggia tutta la struttura delle sue performance teatrali, sono i divertentissimi luoghi comuni dello stereotipo Italiano, che ci rendono cosi' speciali e unici al Mondo. Vari, esilaranti e senza un attimo di tregua gli show di Maryann spaziano dalle legendarie canzoni ,che hanno fatto la storia della musica Italiana e internazionale, rivisitate in chiave comica, ai tanto curiosi quanto divertenti aneddoti vissuti per tutta la sua adolescenza nella tipica, calorosa famiglia italo- Americana.
La carriera di Maryann non e' quella solita dell'artista, infatti solo da qualche anno, ha lasciato il suo prestigioso ruolo di vice presidente nel maggiore istituto finanziario dello Stato di New York, per seguire la sua passione.La sua scelta anche se ardua ha portato subito I primi frutti .Dopo pochi mesi dal suo esordio infatti Maryann vince il Festival del Cantautore di New York. The Brodway Comedy Club, The laugh Factory e Dangerfield's sono solo alcuni dei prestigiosi teatri dove le Italian Chicks hanno dato spettacolo.
Proprio nella Laugh Factory ambito palco in Times Square, immerso nel cuore di Manhattan nel Gennaio del 2008 si e' tenuto il frizzante debutto del gruppo. Solo poco tempo dopo Maryann si ritroverà ad aprire spettacoli di nomi come, Ray Romano e Joy Behar. Tra pochi mesi, precisamente Settembre ci sara' la tanto attesa uscita del suo nuovo disco "City of Life", con la staordinaria partecipazione di Denny Aiello, icona indelebile tra le star di Holliwood.
Progetto futuri delle Italian Chicks e anche sogno nel cassetto di Maryann e' quello di organizzare un tour che parte da Roma attraversando tutto il Sud Italia con destinazione finale, Reggio Calabria, citta' a cui la" nostra chiks" e' molto legata perche' terra natale di suo padre.
Buona fortuna Maryann e alle "Italian Chicks"!


Mauro Chiefari (Calabria Mondo)
Maryann is
A COMEDIAN, SINGER/SONGWRITER, MUSICIAN, ACTRESS AND A FORMER BANKER!!!! AS A CHILD, EVERY SUNDAY IN HER HOME WAS LIKE BAD ITALIAN DINNER THEATER. THEY ALL CAME OVER IN DROVES. ONE DAY, AFTER DINNER AND BEFORE CANNOLIS, SHE GOT UP ON THE DINING ROOM CHAIR AND SANG!! THAT WAS IT! AT FIVE YEARS OLD SHE KNEW EXACTLY WHAT SHE WANTED TO BE WHEN SHE GREW UP. A PERFORMER! THAT WAS A BLESSING AND A BURDEN…. MARYANN MADE HER LIVING FOR MANY YEARS AS A PERFORMER, BUT QUESTIONED HER OWN MORTALITY IN THE BUSINESS. HER ITALIAN FATHER MADE HER THINK ABOUT IT. "MARIANNA! WHENNA YOU GONNA GETTA DA REAL JOB?" SHE BEGAN TO THINK… "THE LAST THING I WANT TO DO IS END UP BEING 65 YEARS OLD, SINGING MISTY IN THE POCONOS IN A SEQUINNED GOWN." SHE GOT A REAL JOB AND BECAME SUCCESSFUL BY ACCIDENT! AS A BANKER! MARYANN CONTINUED TO MULTITASK PERFORMANCE AND BANKING. HER PRESTIGIOUS CAREER CULMINATED AS VP OF A MAJOR FINANCIAL INSTITUTION. HOWEVER, ONE DAY - JUST 3 YEARS AGO - THE "SUITS" GOT TO HER. SHE QUIT THE CORPORATE WORLD TO FOLLOW HER PASSION. SHE REALIZED AN IMPORTANT ISSUE – YOU CAN PLAN TO COME HOME AND DO YOUR LAUNDRY BUT YOU CANNOT PLAN TO COME HOME AND BE CREATIVE, IT JUST HAPPENS! AS SOON AS SHE LEFT HER JOB ALL THE MUSIC CAME POURING OUT OF HER, SHE WROTE AN ENTIRE CD. SHE BEGAN TO USE ALL OF HER CORPORATE SKILLS TO MARKET, PROMOTE AND BRAND THAT. MARYANN ALWAYS HAD THIS OTHER DREAM TO PUT TOGETHER AN ALL FEMALE, ALL ITALIAN COMEDY SHOW. SHE BEGAN THE HUNT FOR HER TEAM. MARYANN IS THE PRODUCER & HEADLINER IF THE ITALIAN CHICKS. SHE PREMERIED SHOW IN JANUARY 2008 TO A SOLD OUT, SRO CROWD. SINCE THEN THE ITALIAN CHICKS HAVE PERFORMED IN BOSTON, PHILLY, CHICAGO AND CONTINUE TO GAIN GROUND. ITALIAN CHICKS IS THE NEWEST, HOTTEST COMEDY TOUR ON THE SCENE TODAY. PART MEATBALL, PART CANOLLI. THESE WOMEN ARE SURE TO LEAVE YOU WANTING MORE… AND WE'RE NOT JUST TALKING ABOUT THE MEATBALLS! YOU'LL LAUGH HARDER THAN IF YOU WE'RE DRUNK AT AN ITALIAN OPERA. A PASSIONATE COMEDY… WITH A LITTLE DRAMA! MARYANN HAS COMPLETED RECORDING HER DEBUT CD OF ORIGINAL COMPOSITIONS. SHE IS A COMPELLING, PROVOCATIVE AND LYRICAL SONGWRITER. "HER MUSIC AND HER VOICE ARE A WOVEN PIECE OF VELVET - RICH IN ABSTRACT HUES OF RED." THE CONSUMMATE MUSICIAN, ALL MUSIC AND VOCALS ARE WRITTEN AND PERFORMED BY MARYANN MAISANO. SINCE HER CD WAS RECORDED, DANNY AIELLO – (THE ACTOR) APPROACHED HER AND IS PERFORMING HER SONG, CITY OF LIGHT" ON HIS NEW CD – TITLED BRIDGES – DUE OUT IN 2 MONTHS, ALONG WITH A MUSIC VIDEO… SHE WALKED AWAY FROM 6 FIGURES, TOOK A HUGE RISK AND HAS NEVER BEEN HAPPIER… AS A COMEDIAN, HER COMEDY IS STORY TELLING, AS OPPOSED TO JOKE TELLING - RAW, REAL AND IN THE MOMENT! MARYANN MAISANO IS AN EXTRAORDINARY, PROLIFIC, SULTRY VOCALIST AND A CRAZY ITALIAN BROAD…